Why Study Abroad
Did you know that AUS offers students the opportunity to study abroad for a semester or two? Studying abroad is a truly enriching experience, with countless benefits such as gaining cultural experience, meeting and engaging with new people, and exploring another country. Hear from some of our outgoing exchange students on why you should study abroad.



Omar Khattab, Mechanical Engineering Major
Outgoing to Northern Arizona University, USA
"Being an exchange student at NAU doesn't mean that you will only meet American friends – you actually meet people from all over the world, experience different cultures and make close friends from every continent. I believe that is because of the strong exchange program community there. One of the unforgettable experiences I was lucky to have was being adopted by an American family who volunteered to take me and some exchange students around, invite us over to their traditional American house and witness how they really live. That was truly a once in a lifetime experience, which is why I would like to send so many thanks to IXO for giving me such an opportunity, and I encourage students to pursue [studying abroad]."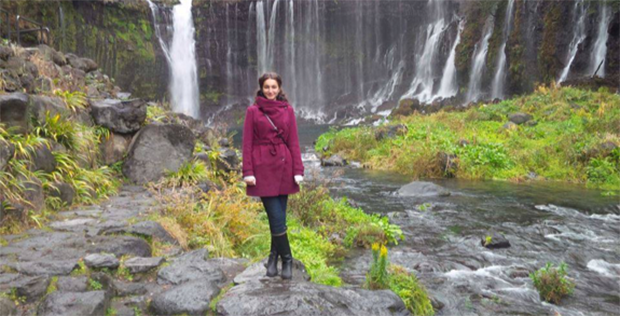 Sirine Dhaouadi, Electrical Engineering Major
Outgoing to Nanzan University, Japan
"I think it's important to study abroad to expand our knowledge to more than just the culture we are familiar with, and also to meet very different people coming from different countries who are also studying abroad. My study abroad experience showed me more of who I am and gave me an idea of what it is that I want. That was all because of having to experience different things that were out of my comfort zone."
Why study abroad at AUS?
Are you interested in studying abroad at the American University of Sharjah? At AUS, you have the opportunity to integrate yourself into our diverse culture, meet new people, and tour the cities of Sharjah and Dubai. Hear from some of our incoming students.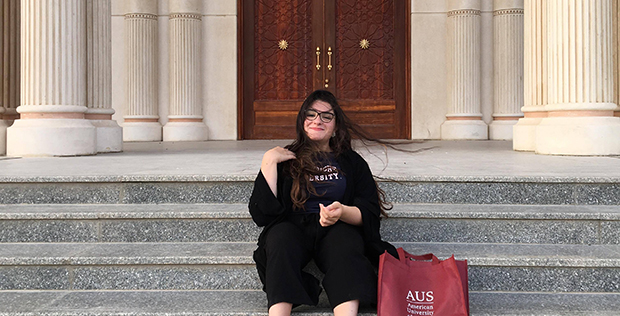 Dania Naschar, International Business Major
Incoming from Maastricht University, the Netherlands
"Academically, AUS taught me how to manage my time between leisure activities and five different courses, each including midterms, projects and a final exam. I am not used to such a system because at my home university we have a problem-based learning period structure that is divided into six periods per academic year, each including two courses per period. It was cool to experience a different university system.

One highlight of my stay at AUS was definitely attending the Club Fair and Global Day 2018. I actually joined more than 20 clubs because I loved them all and I couldn't decide which ones to choose. Most of them were cultural clubs, like the Syrian, Jordanian and Palestinian culture clubs. By attending their events on campus, I learned to be more open and speak to more people. I was always welcomed with open arms, and IXO did an amazing job integrating us into life at AUS. Their outings and activities were great and unforgettable.

From a social (and cultural) perspective, I could finally fulfill my dream of living in the UAE. As I am originally from Syria but was born and raised in Germany, I always wanted to experience life in an Arab country and fully engage in the community and religion. Living in Germany does not really give me complete involvement in the Arab world and that's what I enjoyed most at AUS. I fell in love with randomly saying salaam to people, with listening to the call to prayer (adhan) but also to Arabic music in the Student Center and with walking around the beautiful AUS campus. I enjoyed speaking Arabic with my friends and classmates and eating delicious food.

This whole engagement helped me find my place very quickly. It felt like home. I met the nicest students and professors from different cultures who made my experience even more amazing. Many students came up to me to talk about the different cultures and ways of living between the UAE and Germany. Some pretty interesting and lively conversations took place during my stay. Those conversations helped me be more open and confident. Overall, studying abroad at AUS was the best time of my life!"